I recently discovered Bittersweet Candy Bowl, a cartoon about cats and dogs in high school. But you know I wouldn't mention it here without good reason…And, as a matter of fact, one of the main original characters is a Somali! His name is Paulo, and he's just so over-the-top brash and annoying while at the same time being also sensitive, loyal and romantic you can't help but adore him.
There's also an Abyssinian character named Abbey (short for Abraham).
He and Paulo don't really get along, but they have friends in common, particularly Daisy, a half-Selkirk Rex, half-Ragamuffin cheerleader.
Abbey and his sister Molly had a rough start in life, but he looks so much like Jacoby I can't not love him.
He even has the stripe down the back of his tail!
Paulo has an occasionally-updated Twitter account (@HotSomali92) with more "followers than he deserves." I asked him if he knew @Sparklecat…
Abbey has one, too…even less frequently updated (@Abbeyssinian).
Of course, being the cat geek that I am, the comic hooked me in because most of the cats (and dogs) are actual breeds. Besides Paulo the Somali and Abbey the Abyssinian (and Daisy the Selkirk Rex-Ragamuffin, there's Mike the Korat, Lucy the Khao Manee, Sue the European Burmese, David the Chocolate Lab, and Augustus the Siamese. What got me addicted was the story, the wonderfully told drama of teenage love and strife peppered liberally with humour. The artist, Veronica Vera (aka Taeshi), has been drawing it since she was a teenager and it's fun to watch her style grow along with the characters.
I had the good fortune to participate in a live drawing stream this past Friday. Taeshi drew requests for longtime club members and also for people who purchased a book during the stream.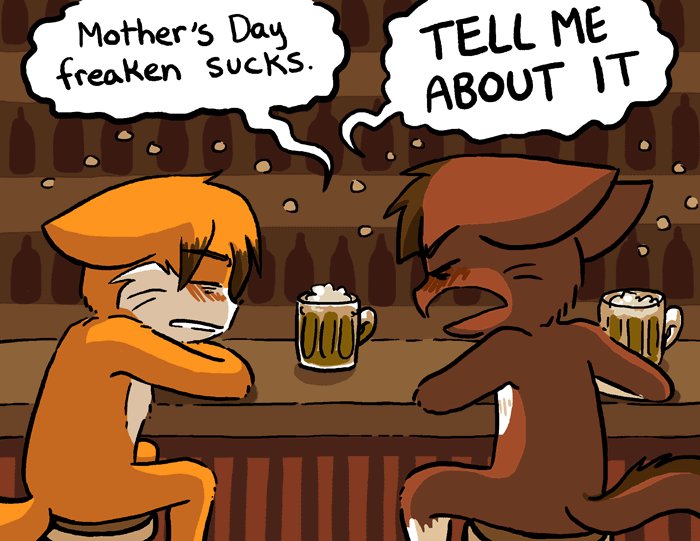 I asked for Paulo and Abbey together, and I got to watch Taeshi draw this picture of them on Mother's Day (it's kind of a sore subject with them)…It was really interesting to see how another artist draws their cartoon, especially since she also uses Photoshop as her art program.
Be warned, though…this comic is really addictive. Especially Paulo.